Tattered Souls on Amazon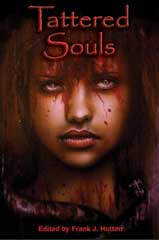 The anthology from Cutting Block Press, Tattered Souls, is now on Amazon. Tattered Souls includes The End of Flesh by Matt Wallace. The End of Flesh first appeared on Variant Frequencies as Children of the Androphagi.
The are a couple of reviews on Amazon. Check out this clip from one:
The absolute winner, however, is The End of Flesh, by Matt Wallace, a dark, dystopic science fiction story that just might rock your world. This revelatory novella could and should be expanded into a full novel. Drool and The End of All Flesh are worth the price alone, but all the stories should provide an enjoyable read. –Monstor Librarian
Tattered Souls is selling for $16.95. It is well worth the price.