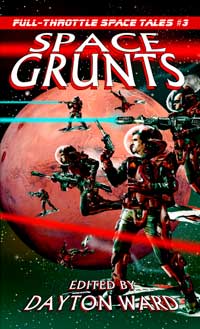 Mark your calendars! On May 14th, 2009 you will be able to get your hands on a new anthology, "Full Throttle Space Tales #3: Space Grunts," edited by Dayton Ward. The part that really has us excited is that it contains a story by Anne Stringer and Jason McDowell.
The book is edited by Dayton Ward, best known for his Star Trek novels. He also wrote one of the stories.
Anne and Jason wrote a story called "Flashback." You all know how good Anne's writing is. Jason is a terrific writer, and has real war experience from his tour in Iraq. They came up with a piece about a former soldier who goes on the run for murder, and winds up in a mercenary team on a far distant colony planet. They were happy with how it turned out, and apparently so was Mr. Ward.
Anne has written many of our stories here on Variant Frequencies, and Jason wrote the Parsec Award nominated "Sacrifice."
Here is the full list of authors and their stories in the book:
Derek Tyler Attico, "Blowback"
Robin Wayne Bailey, "Shin-Gi-Tai"
Kirsten Beyer, "Widow's Weeds"
David Boop, "The Thing With Private Leon's Face"
John Coffren, "Across the Endless Sea"
Jeff D. Jacques, "Rush"
Jean Johnson, "It's Not a Game"
Alan L. Lickiss, "Granny's Grunts"
Julie McGalliard, "98 Hill"
Nayad A. Monroe, "An Assessment of the Incident At Camp Righteous"
Scott Pearson, "Finders Keepers"
Irene Radford, "Price of Command"
Selina Rosen, "Unchained"
Bradley H. Sinor and Susan P. Sinor, "Who Stand and Wait"
Anne Stringer and Jason McDowell, "Flashback"
James Swallow, "Target Market"
Geoffrey Thorne, "Truth Metric"
Dayton Ward, "A Fresh Perspective"
Comments(2)